On the web it is simple to sell, but for that to happen there are many elements that needs to be integrated and they also have to come together to deliver a website that visitors or customers can find, want to visit and buy from.
Magento is a feature rich e-commerce solution that offers online sellers complete control and flexibility over the functionality of their online channel.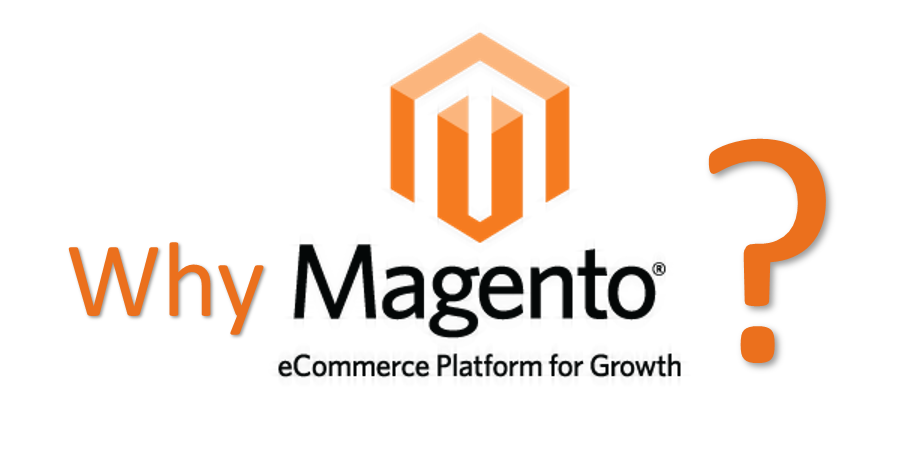 With Magento Ecommerce you avail the following features:
Site Management
Catalog Management
Checkout, Payment and shipping
Site Management
Search Engine Optimisation
Marketing, Promotion and Conversation Tools
Customer Accounts
Customer Service
Order Management
Mobile Commerce
Analytics & Reporting
By choosing a Magento eCommerce website you will have the benefits:
Online store maintenance: Store maintenance is one of the best thing about Magento online store. The site owners, post development, can manage their online store without must assistance form the support or developers.
Feature rich: Magento websites is a feature rich platform. This platform will include checkout, payment & shipping, analytics & reports, order management, catalog management, marketing, promotions and conversion tools
Manage Multiple stores with single Admin: With Magento ecommerce website you can manage multiple stores with single admin. This makes Magento website stand out of crowd.
Adaptable and Flexible: With magento websites you get both flexibility and adaptability. This means that the website can be modified and integrated for future.
Powerful Search Engine Optimisation: Magento websites are designed with SEO in mind, therefore it's easier for the customers to find you without you having to spend extra money and time.
Categorise your customer: You can improve customers shopping experience and your profit by having deep insights about your customers with the data like buying history, demography and you can also differentiate between first tome and repeat visitors.
Shopping with Targeted Promotions: Customers will more likely buy from your website because you will make shopping personal from them.
Recommend and Cross-sell: You can recommend products to your customers or targeted customers. You can use this to upsell or cross sell products, hence increasing the revenue.
Easy to find products: With advanced search technology, it makes it faster and easier for the customers to find the product they are searching on your website
Focused navigation and filters: With advanced filtering options its easier for the customers options its easier for the customers to filter by price, colour and other categories which in turn helps in conversion and increase revenue
Retain Customers: You can engage customers with rewards, private sales and give the customer personalized shopping experience
Expand your Business: Magento has a robust and scalable architecture and also enables a strong and secure transactions. Hence you can expand to new markets and support huge volumes while keeping your site secure.
Now you know why many store owners are moving to a Magento Ecommerce Platform Solution. If you have a Magento Website Requirement, Fill Up The Form and we will get in touch with you.