Mobile web pages has a whole new user experience. Unlike desktop web pages, which are designed for large page screens and mouse clicking for navigation, mobile web pages are designed for small screens and finger tapping.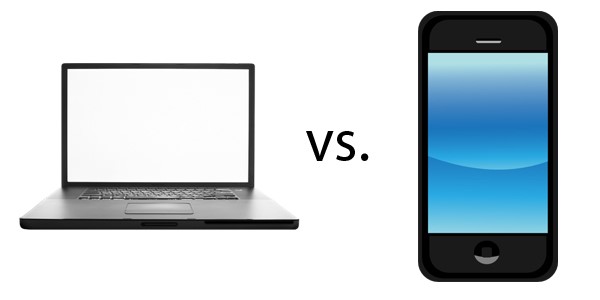 Let's see some of the differentiating points:
Content as Priority: The biggest challenge in designing a mobile website is how to cope with the screen size difference without hampering the user experience. While desktop or full website contains a wide range of content sand images, the mobile website just contains the important functions and features.
Mobile website gives priority to the features and content that users are most likely to need when viewing a site using their mobile devices.
Mobile Website has Vertical Navigation: Vertical navigation has replaced the horizontal navigation (which you get on the desktop website) on more than 90% of the mobile websites.
Much less hypertext and more of Bars & Tabs: Hypertext is the signature component of the internet and the web, but on mobile pages we see less hypertext. The reason for this is optimisation of the mobile devices for the users operation of the mobile devices with their fingers.
Footers: Mobile Website comply footers that provides access to content users often look for on a home page, keeping its links to a minimum.
Sliders & Widgets: You can expect the most mobile friendly pages will remove some or all of their sidebars navigation links & replace it with collapsible or expandable menu widgets.
To conclude, the desktop user interface platform differs from the mobile user interface platform in many ways. The difference in symmetry, mobile users needs a different design than desktop user. Its best to have a mobile optimised website as well since 2014 is the year of Mobile Devices.