Video Marketing is simply integrating videos into your Marketing Campaigns to promote product or services or even the company itself. Videos can be a customer testimonial or how-to videos or demo video or entertainment videos. Video have now become the most influential means of dispensing information and adding significance to the marketing campaign.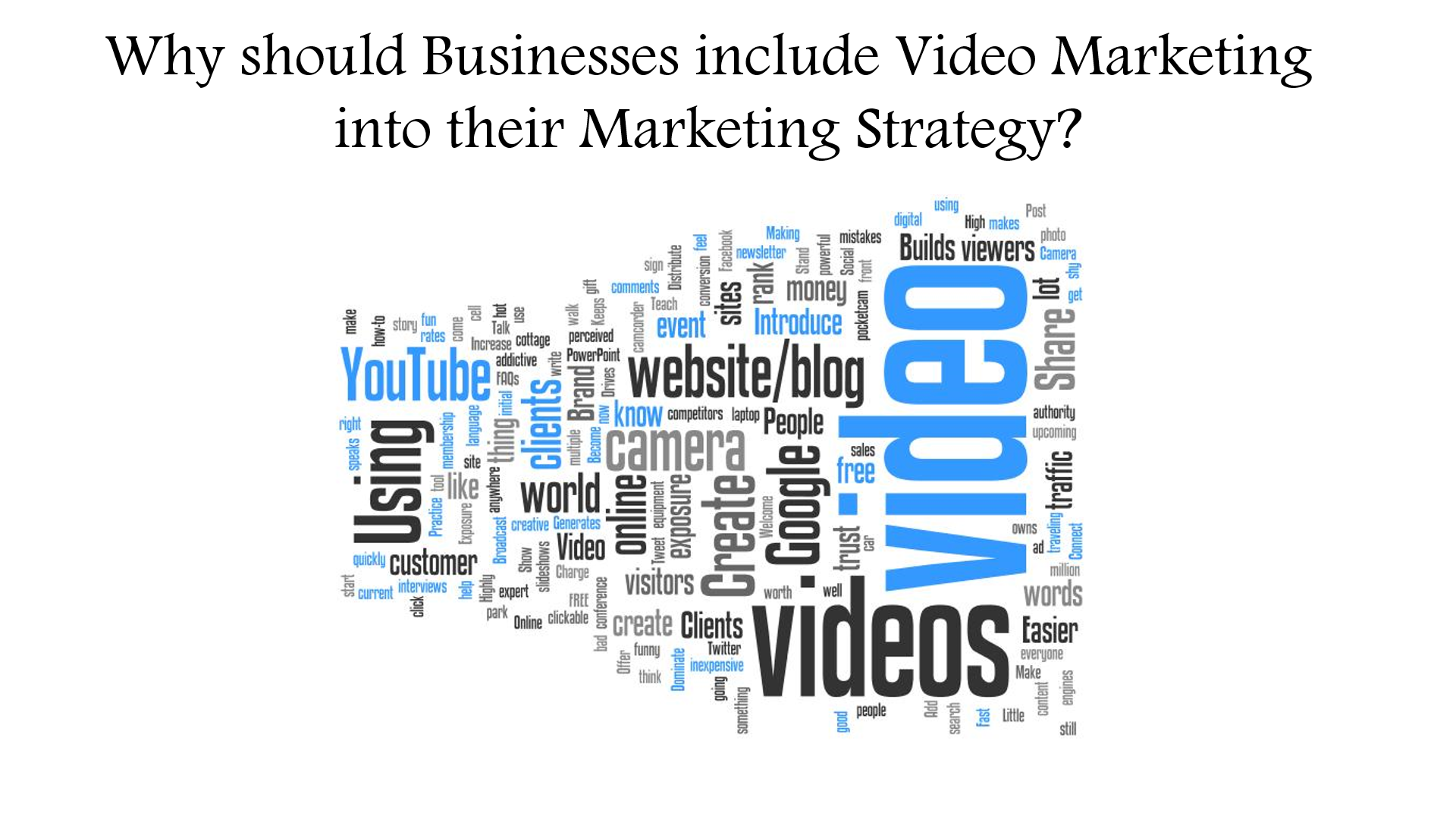 Facts:
Customers watch more videos:

On YouTube, there are more than one billion unique user visits every month
On YouTube, over six billion hours of video are watched every month
92% of B2B customers watch online video

Videos will help you have the an edge over your competitors:

Video marketing can be used as tool to improve consumer engagement
Add Video to the emails increases the open-ration by 5.8% and click through ratios by 96%
Video added on the landing page increases the conversion by 80%
52% of executives watch work related videos on YouTube at least weekly
75% of executives watch work –related videos on business related website at least once a week

Video can be searched easily:

Of the top 100 search listings on google results, 70% are videos
Videos on social media can play a role in organic google search results
Video on social media can we the entry point to your website

Video is Mobile:

Of all mobile traffic, online video now accounts for 50%
30 sec mobile video ads have an 88.3% completion rate.
Sources: YouTube, Dummies, Ragan & Goanimate
Benefits of Video Marketing:
Conveying complex information clearly: When you need to pass on a complex information to vast audience online, video is more suited for the task, as it's easier for audience to understand when they see visual or watch someone demonstrate on how to use the product.
It is easier for the user to share the video: Sharing of the video leads to more exposure to that particular video and hence that information which you want to convey. And at the end increased interest towards your company. Video is a preeminent way to reach a vast target audience and getting your information across.
Videos are engaging, eye-catching and effective in ways which cannot be achieved by text. These have a good recall value, it's easier for the audience to recall what they have seen than what was they read.
Videos are easily accessible, there are boundless platforms for video uploading and sharing. Since they are easy to get access to video platforms make it possible for the business to transfer the message to their audience.
Visual content lets you penetrate the emotional centre of a viewer's brain. They helps to convey the messages or information with an emotional connection. This help the brands, connect with their customers on emotional level.
Videos increase your search engine ranking, conversions and even click-through rates. For this to happen you have a properly titled video can boost your search engine ranking. If you do not have a video on your website or YouTube, you are losing out on crucial ranking opportunity.
If you are interested to include video marketing into your marketing strategy, get in touch with the Shivam Technologies